TWO PEOPLE WALKING WITH GOD TOGETHER ...
Marriage may be the most sacred of all human relationships; two people, coming together as one. There may not be anything more powerful than two people walking with God together. It's kind of mind-boggling, actually. And because of the power and weight of marriage in the Kingdom, it should not come as any surprise that marriage is violently opposed … it's a favorite target of the enemy.
MARRIAGE IS WORTH FIGHTING FOR ...
We believe this is why you don't have to look very far to find a marriage that is in trouble. Assaults on marriage and challenges to marriage are everywhere. But we know there is a way for couples to make a comeback, learn how to fight back, enjoy being restored, and actually thrive in the midst of the day to day battles of life. Marriage is worth fighting for and having the right weapons and tools, training and orientation is crucial. That's why we created The Rendezvous Project, a 12 session video series recorded live during one of our recent Rendezvous Weekend marriage conferences.
YOU'RE INVITED ...
Through The Rendezvous Project, we hope to empower redemptive marriages to either take a weekend away together and host your own marriage retreat, or journey together in a weekly small group, discovering your true heart, the deep and beautiful heart of your marriage, the context of the Larger Story your marriage is in and how to walk intimately with God together.

"Love is invincible facing danger and death. Passion laughs at the terrors of hell. The fire of love stops at nothing— it sweeps everything before it. Flood waters can't drown love, torrents of rain can't put it out." - Song of Solomon 8:6-8 (MSG)
We will begin by exploring the beauty of why marriage is valuable in the Kingdom of God and what our hearts long for in marriage. We will also look at some of the basic assumptions that the Guide Team is making about the couples journeying through The Rendezvous Project.
We're going to talk about "where" your marriage is located, in the spiritual realm, in the Kingdom of God, and everything that is set against your marriage.
We're going to explore what true intimacy is: knowing and being known, by God and by your spouse.
We're going to discover the glory and beauty that God intended when he created Woman.
We're going to examine the core desires of a man's heart, and the magnificent ways that God intends for Man to reflect His image.
We're going to explore who we truly are and, more importantly, who we are not.
We'll continue discover more about who we are and who we are not by exploring how the Enneagram helps us in our journey.
We're going to look at the wounds we've received in the past, and why they matter.
We're going to take our wounds to Jesus and discover how He can heal us.
We're going to explore the unique calling and glory God has for each of us.
We're going to look at how a Redemptive Marriage can help us bring the Kingdom into our parenting and other relationships.
We're going to wrap things up and send everyone home with a blessing.
We're going to explore the beauty of sexual intimacy within marriage and how God designed sex to reflect intimacy with Him.
Leader Package
Best for Small Groups

---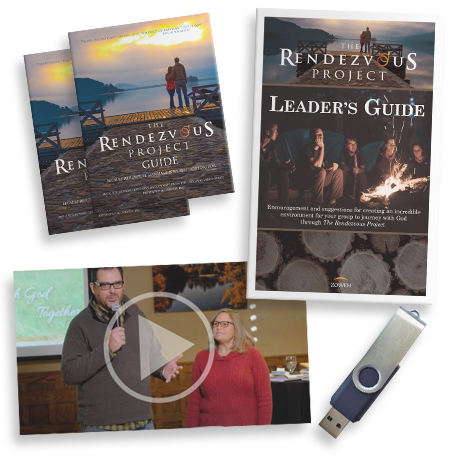 Includes:
2 copies of The Rendezvous Project Guide

Streaming access to 13 video sessions

Downloadable video files
USB Drive containing video files
The Rendezvous Project Leader's Guide

Includes access to updated bonus content