What if you could live your life from a heart that was settled in love, convinced of its worth, and moved by purpose and true desire? What if you could live unafraid and unashamed, sure that you belong? Welcome to The Deepening Journey!
The Deepening Journey was recorded at The Deepening Weekend, birthed out of friendship and conversations in which our guide team shared our own stories of knowing God, being known by Him, exploring our hearts, and friendships.
As women, we long to experience the reality that we are seen, known, and extravagantly loved … to experience our belovedness.
Our hearts need rest. Comfort. Clarity. We need a chance just to be still. To hear God. Oh, we so desperately want and need to hear God. We long to hear God's wisdom for the situations and details of our lives, but perhaps even more, we need to hear God's heart about our very existence. Do you see me, Father? Does my heart matter to You? Am I pleasing to you?
And we have questions about our existence as women. What am I made for? Where do I fit in your design? What is the glory that You've assigned to my life?
Through The Deepening Journey, you are invited to explore with us some of how we were made to live and flourish in the Kingdom of God, what comes against that intended flourishing, and the offer of healing, integration, and restoration
Throughout the six sessions of The Deepening Journey, you'll have opportunities to explore more of your story and the incredible journey of your heart - in both time alone with God and in community with other women.
How It Works
Simply purchase The Deepening Journey, which includes one copy of the Journal Workbook and access to the six video sessions. Each session, you'll watch the video, take notes in the Journal Workbook, then engage the questions in the Journal Workbook as a group. Between sessions, there are questions to invite you into intimacy with God through the Time Alone with God questions at the end of each session.
What You'll Need
The Deepening Journey Journal Workbook
Internet Access
Small Groups
Are you leading or part of a group exploring The Deepening Journey with friends? We would be honored to pray for you and your group, as well as be a resource for you in this journey. Register your group by completing this form and be sure to download the Leader Guide. Questions? Please connect with The Deepening Experience team at care@thedeepeningexperience.com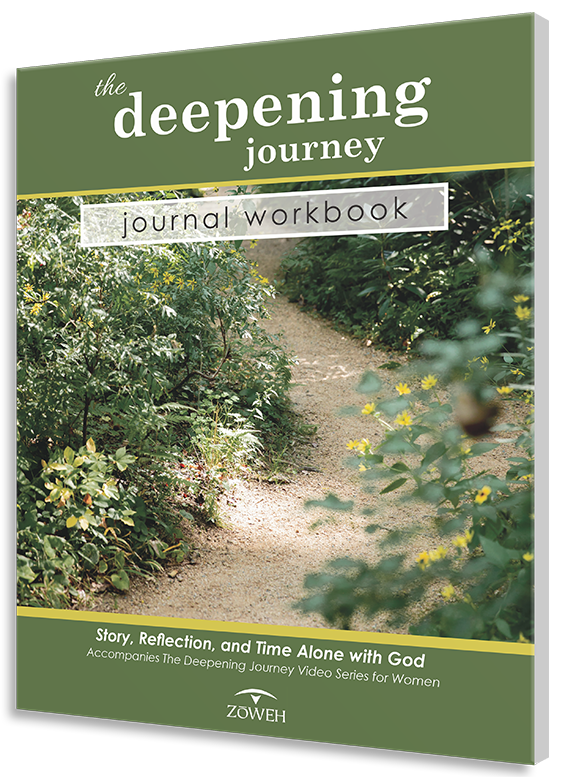 Zoweh is a nonprofit partner supported ministry.
We are with you and for YOU in your journey. Would you consider financially partnering with us as we come alongside women on their journey of healing and wholeheartedness?
To give by check, make your tax-deductible contribution to Zoweh Ministries and mail to: PO Box 52441 Durham, NC 27717