Because there is always more with God … more Life, more Love, and more Freedom, there is also more Healing and more Training.
What if you could get away with God, and a bunch of other hungry and thirsty men chasing after him, and discover more of who you were uniquely created to be, how to live from your true self, what the impact of your life on others is meant to be and how you are specifically known in heaven?
This is our weekend encounter for the Alumni of The Heart of a Warrior Encounter or Wild At Heart Boot Camps.
During the King Me Advance you will explore the Masculine Journey, discover more of your heart's journey and help other men do the same. At the Encounter weekends we emphasize time alone with God, a lot of it. During King Me Advance you get a few of these important times, but much of the weekend is in a small group format: three men and one guide, exploring the frontier of the Kingdom and each man's story, glory, and strength together.
3 IMPORTANT COORDINATES
King Me Advance is going to be different than past Advance weekends. We will experience content from Michael's new book, King Me, new stories from the Team including new responders for King Me Advance, and new content from Gary Barkalow, which includes bringing back The Picture Exercise.
Allies leaders can be Medic Guides (even if you are not an alum of the Encounter weekend! Email Greg at greg@zoweh.org to ask how) and bring their guys with them - a team that comes together is stronger when they go home together.
This event will be held at Rockbridge for the first time. Friends, we have moved this retreat to it's new home and we need your help getting 150 men there so we can stay at Rockbridge! #NoMoreMysteryFish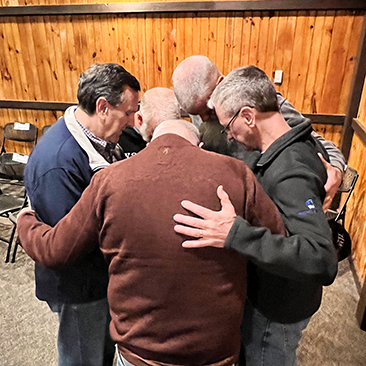 Explore the Masculine Journey
Every man has been on quite a journey. You are an Image Bearer of God, and that comes with certain privileges, responsibilities, and dangers. Journey with God and a small cohort of men and a guide into your story and explore where you've been and what has happened. You will be amazed by where God takes you.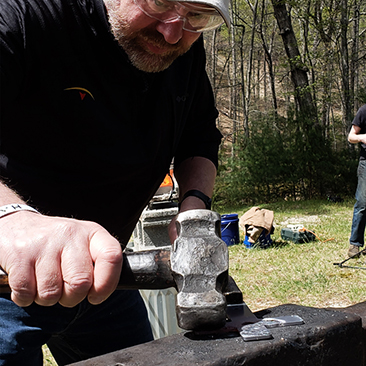 Discover Why You Are Here
There is a glory to your life. Discover the unique and powerful way in which you bear the Image of God. Be trained, validated, and initiated into your role in the Kingdom. It is what you've been looking for all your life because it is why you were created: the unique goodness the Father is inviting you to bring to the world.
Experience Redemptive Brotherhood
Does any man have enough good friends? "Good," meaning friends who have earned the right to speak into your life because they have come to know you, know your story, see what has been at work against your life, and why. We were never built to do Life alone, and this weekend is crafted to boost your hope in good friendship.
Men have a glorious and significant role in God's Larger Story. They also are the target of a special warfare aimed continually and ruthlessly at the center of their being … their masculine hearts. Naivety and ignorance keep many men running in circles while misinformation and poor training keep many more in bondage. Men are wounded, frustrated, angry and being crushed under the weight of criticism and expectations.
The attempted solutions of recent years is education; tell men what they are doing wrong and give them a list to memorize. This strategy isn't working and its time we fall back to an Ancient One. What if we are setting men up for failure rather than helping them be free? Join author and guide, Michael Thompson, and the Zoweh team as they invite men to a place of training and orientation that will ensure both a settled heart and a fierce courage. A man cannot enter this battle without knowing he is a Beloved Son for after all, that is what the battle is all about!
What you'll get ...
Encouragement, teaching, and stories from the real lives of who have walked this road before
Fresh encounters with God and his heart for who you are as a man
A path forward to move into the healing and restoration of your own heart, and then the hearts of your family and friends
Opportunities to form lasting brotherhood with other strong men
An invitation to share any struggles or heartache and pray with a trained medic in a safe environment during a one-on-one hour long medic appointment
Registration includes ...
On-site lodging in upscale bunk rooms
All meals Thursday dinner -Sunday breakfast
A seat in all sessions
A journal and pen for Time Alone with God
On-site free time activities (archery tag, hiking, frisbee golf, zipline, game room, gym, hot tub)
24/7 coffee
Registration does NOT include ...
Books and gear from the Zoweh Outpost store
Drinks and snacks from the on-site coffee bar
Items from the YoungLife camp store
Gear for fishing
Transportation to any off-site free time activities, including fishing and shooting
Transportation to and from the event