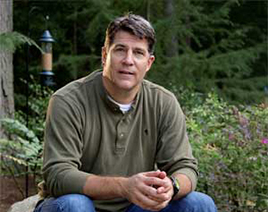 Michael Thompson, author of Search and Rescue and The Heart of a Warrior, is a teacher, mentor, and guide for the hearts of men and women. He and his wife Robin are the founders and directors of Zoweh Ministries in the Raleigh, Durham and Chapel Hill area of North Carolina. Zoweh functions as both a Medic Team and an Outpost to help people experience intimacy, oneness and connectedness with God and with others.
Michael and Robin have been married since 1990. They have three daughters: Ashley, Hannah, and Abbey, and they live in a redemptive community of friends and allies who work together to experience Life together and offer Life to all who God brings across their path.
Michael and Robin Thompson
Before the start of Zoweh in 2004 they enjoyed being staff members with Campus Crusade starting in 1989. During their time with Cru they served with Athletes in Action Basketball, AIA Field Staff at Duke University, and then as the directors of Priority Associates of Durham/Chapel Hill.
Michael grew up in Oklahoma and is a 1988 graduate of the University of Central Oklahoma. He received a graduate degree in Counseling from Southeastern Baptist Theological Seminary in 2004. Robin grew up in Columbus, OH and went to high school in Greensboro, NC. She graduated from the University of North Carolina in 1989.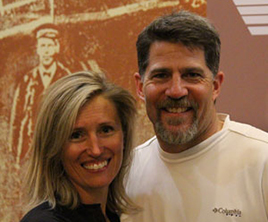 Zoweh Ministries—Life, Heart, and Kingdom. Three distinct words to describe the vision of our ministry and its initiatives. On a day-to-day basis our mission is to help people know and enjoy intimacy, connectedness and oneness with God. Helping people come to know who they are, where they are and all the good God is up to in their lives are important to the mission of Zoweh and the Thompsons. Sharing with others the full work of Christ through His death, resurrection and ascension is huge to a person experiencing the freedom and Life for which they were made! Zoweh Ministries operates like a Medic Team and an Outpost in this greatest of love stories set in the midst of the fiercest of battles. People need a place to heal up, get cared for and be safe. They also need good information, tools, supplies and equipment. The Thompsons have had their hearts and lives profoundly impacted by God and extend their lives as a resource to others who are seeking direction, purpose, and meaning in their lives. Through different initiatives such as large conference and retreat events, weekly small group studies and one-on-one discipleship counseling, Michael and Robin look for and pray for opportunities to love, encourage, teach and guide in the fight for the hearts of others.