Here are some stories of the sea and news from the Frontlines!

Momentum and Synergy are two words that the business world loves to use. In March of 2020, the pandemic obliterated those words and realities around the world. You know the story by now. Groups shut down, some moved to Zoom, retreats canceled, shut up in our houses, no church services, quarantined spaces, quarantined lives and a quarantined Zoweh Allies Movement. It was not a space we wanted to be in, but the slower pace wasn't all bad.  
Being in second gear helped us move forward with the Battle Plan, we were afforded time to enjoy our families more, and I heard many stories of overcoming and becoming, healing and life that slowing down propagated - more on that story from the Frontlines from an ally below.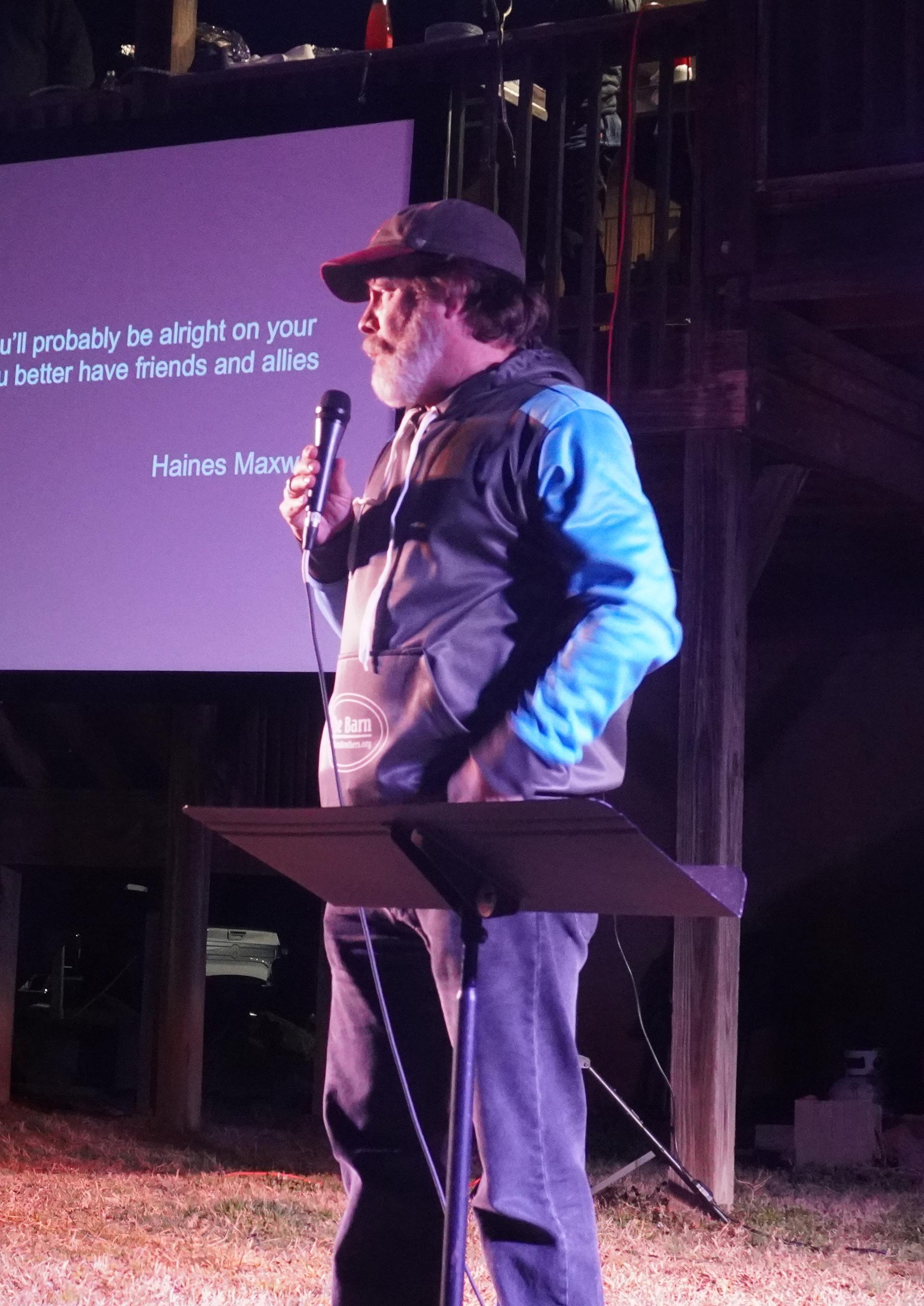 Over the past several months, as Michael says in The Heart of a Warrior, "mission finds you." Momentum and Synergy have once again found the Zoweh Allies. In February, Zoweh Allies from around the Southeast gathered at The Barn in Charlotte, NC. 150++ men, resetting and moving back to the basics of orientation, loving God and loving others. In late February, two new international groups started, one in Australia and the other in New Zealand. From March until June, Zoweh Allies have come to King Me Advance (formally Allies Advance), two The Heart of a Warrior Encounters, and sent their women to The Deepening Weekend.
Those times away with God have produced a hunger and great desire to move forward with fighting for the hearts of those on your right and your left. Your fellow man - getting your own heart back and loving others back to life in the process.
And with Farther's Day right behind us, churches, nonprofits, and individuals alike bought The Heart of a Warrior in cases at our lowest possible price point, to hand out to the men in their lives, churches, and businesses, and drawing up their plans to infiltrate lives with the message of the heart and belatedness. They are also checking out our brand new resource for dads to love and lead their families at home, called Rescue at Home.
Josh Overton: Welcome to the Zoweh Allies Team!
Josh Overton is on a mission to see hearts set free. He loves to see Jesus heal the brokenhearted and set the captives free. Josh loves to see people coming to know Jesus as he really is—and in turn, discovering who they truly are. A life found in Jesus and a life full of freedom, beauty, glory and love. With over 10 years of ministry experience that includes church planting, youth ministry and a stint with the Fellowship of Christian Athletes, he truly gets excited to walk alongside others & invite them into more. In addition to walking with God and others on mission, he can usually be found caught up in a random adventure with his wife Brooke, or one of his three children. Follow along on their family adventures on their Youtube channel!
- by Tim Payne from Columbus, GA
When I was about 11 mom remarried and while that brought some stability it was not without issues. I had to fight the guy twice to get him off her. It was during this marriage that I left for good. They would host poker parties and there would be six or eight people in our small trailer smoking and drinking and playing cards, sometimes for days. I came home one Sunday afternoon from visiting my Granny (Eunav) and they had been there all night and were going strong. I was not feeling well at all and asked her for something to eat, she told me get it myself. I went back to bed. Later that evening they got really loud and I got angry and asked them to be quiet which didn't go over well and I was cussed out and told to shut up and go to bed. The next day I didn't go to school. I got all my stuff. It fit in one paper bag. I strapped it to my bike and rode my bike four miles back to my Granny's house. When I got there, she looked at me as if she knew what was about to happen and I said Granny can I live with you it's not good there. She said, "I've been waiting on you son and I am glad you're here. Yes, you can live with me." Now she was a widow and her youngest son still lived at home with her helping her out financially. She worked for just above the minimum wage at that time and I had nothing to offer but love. It was a small home and I actually had to sleep with her. But she kept it clean and neat we painted, and cut grass and all that. I would go to the laundromat with her every Friday and sometimes we would get McDonalds. She taught me many things about gardens, canning, values, morals, etc … she became and is my hero.
Piedmont/Greenville Update
- by Matt Toulchard and Kevin Hall
I wanted to give everyone an update on the allies situation in The Piedmont/Greenville SC area. As some of you know Kevin Hall and I tried starting a group about a year ago and basically everything came against us and nothing came together. Low to no attendance, no good location, basically a complete disaster. So we took a break thinking there just wasn't a desire in our area. Well after this last The Heart of a Warrior Encounter, we decided to try again as we both felt pushed in that direction. Fast forward to Saturday and we had our initial meeting.

10 men!!!! All engaged, all fired up all expressing that they wanted more. We started to share our stories and things just took off!!! We ran out of time, it was amazing. On top of that we have a location offered up at a building attached to a private shooting range.

We have a group!!! God is so good guys, I guess last time it just wasn't Gods time, this time certainly was. Can't wait to see what God does with this group of mighty men.
It's humbling to see the swell and movement of God in so many of our Allies groups and churches. Our Zoweh Allies Team is here to help - we are so very excited to see friendships form, grow and honestly wake up to all the good God is up to. It feels a bit like Father Christmas coming to Narnia - the power of the White Witch is waning, and Christmas is coming.
PS - I'd love to see you at the Zoweh Allies Gathering: Georgia in August!
Zoweh Allies are Churches, Ministries and Individuals who are creating environments where redemptive friendships lead to communities that focus on deeper intimacy with God and others. Think you might be an ally?
Connect with our Allies Team by sending us an email.
The mission of Zoweh Allies is to rescue hearts and advance the Kingdom through Redemptive Friendships. 
You have received this email because you registered for the Zoweh Allies Dispatch with Zoweh, located at 3100 Tower Blvd, Suite 901, Durham, NC 27707.

Should you no longer wish to receive the Zoweh Allies Dispatch, you can easily unsubscribe here.