Equipping Warriors to Rescue Hearts
The spiritual battle between the Kingdom of God and the kingdom of darkness is relentless. But, there is hope. Men and women all over the world are partnering with Zoweh to rescue hearts and advance the Kingdom. You can help fuel the mission by purchasing a Zoweh River's Edge Knife.
Knives for Lives: What is it?
This fundraising campaign will help fuel the mission to offer the Love, Life, and Freedom found only in Jesus to those who need a little hope.
Your gift will …
Fuel high-quality resources like The Rendezvous Project and our YouVersion devotionals to invite men, women, and marriages into intimacy with Jesus.
Fund online training for allies, pastors, and other non-profit ministries.
Provide for our small and dedicated staff and their families. Like all of you, we've been affected by the COVID-19 events. Zoweh is a 501(c)(3) non-profit, and it is through the generosity of men and women like you that our mission to rescue hearts can continue.
Your support will make all the difference!
Please donate here, and we will fulfill your order as soon as possible. Please allow up to six weeks for delivery - these custom knives to be handmade.

We will be happy to send one knife to you for any generous donation of $160 or more.

PLEASE NOTE: 1 KNIFE PER DONATION
Want more than 2 or more knives?
After you complete your first purchase & donation, just complete the process again for each knife.
Want to send your knife as a gift?
Please add the ship to address in the "Gift Notes" field at the bottom of the form below.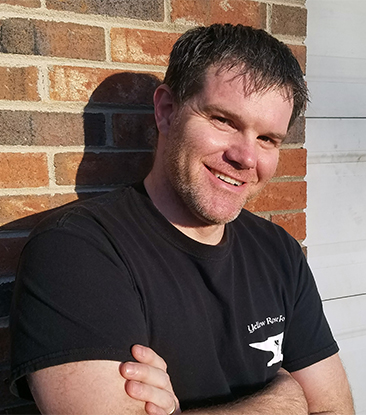 Billy Salyers, ABS Bladesmith,
Forged in Fire champion
Handmade Knives by Billy Salyers
Zoweh is proud to partner with ABS Bladesmith and Forged in Fire champion Billy Salyers, owner of Yellow Rose Forge.
The River's Edge EDC drop point Hunter is completely handmade. The blade itself is 1095 high carbon steel with locally-sourced Walnut handle scales and brass pins. Each knife comes with a handmade leather sheath. Despite its beauty, this blade is meant to be used just like thse way our lives are forged to reflect God's glory and to be used for his praise.