Becoming a father is one of the most glorious roles and challenging adventures a man can take in his lifetime. As all good explorers know, you don't set out on an adventure without making sure you are oriented, in good shape and have all your gear ready to go.
For Father's Day this year, we want to equip and encourage dads in their incredible role in the Kingdom. We invite you to create a Father's Day Kit – assemble encouragement, resources, "gear" for your adventure of fatherhood as you walk with God to discover how to take the next steps. No matter where you are on the journey this landscape is always changing and always shifting, because our children are always moving!
Feel free to share your Father's Day Kit or this email with friends, family, other dads or even your own dad!, and invite them to create one of their own.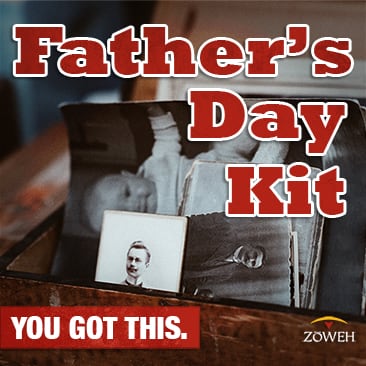 Zoweh's free kit includes the following resources:
The Daily Prayer (MP3 and PDF)
Fighting for the Hearts of Your Children (MP3)
Warfare and Training (MP3)
Basic Training Devotional (PDF)
Other FREE resources for your journey as a father
Featured Resources for Father's day

Isolation is one of the greatest tools of the enemy. Zoweh's mission has always been to connect hearts for greater intimacy, oneness, and connectedness with God and others, and during the COVID-19 crisis, our mission has become especially critical. There are churches, ministries and individuals all around the world who are creating environments to share redemptive community digitally. Are you looking for a community to plug into? Please don't give in to isolation. Click below for more or
connect with our Allies Team by email
and let us help you find or start a community.